Booking Boosters
Leave your marketing to the #1 in the recreation industry.
Give your website a well-deserved boost in online visibility. Be found and get more bookings through your own website. This will give you a higher occupancy rate and more revenue for your campground, vacation park, resort and hotel.

More than a marketing agency
With rock-solid marketing, we make sure your recreation business is optimally occupied. Year-round. With our own PMS and CMS, we make your website the place where your target audience prefers to book.
''They not only carry out your wishes, but also come up with good advice.''
The specialist in the recreation industry
100+ vacation parks and campsites went before you.

For 7+ years we have been deploying a combination of different online marketing channels and increasing our clients' own website bookings.
Ahead of the curve
Make the right decisions based on data.
Our clientbase and expertise enable us to benchmark your performance against that of many other hospitality businesses. Are average prices on the rise? Do guests tend to book last-minute or well in advance?

We not only observe emerging trends but also take proactive steps to leverage them, consistently staying ahead of the curve. Our decisions are founded on solid data.

Choices we make are based on data:
Highlight specific properties
Launch campaigns at the right time
Distribute budgets efficiently across channels
The Booster approach
Our marketing recipe.
We combine a powerful mix of ingredients that amplify each other. The result: more direct bookings.
Practice makes perfect
Our secret ingredient? Good pinch of experience.
Our team of dedicated experts has years of experience in the leisure industry. They know which strings to pull in order to increase direct bookings.
Outsource your marketing efforts
Set targets together and chase them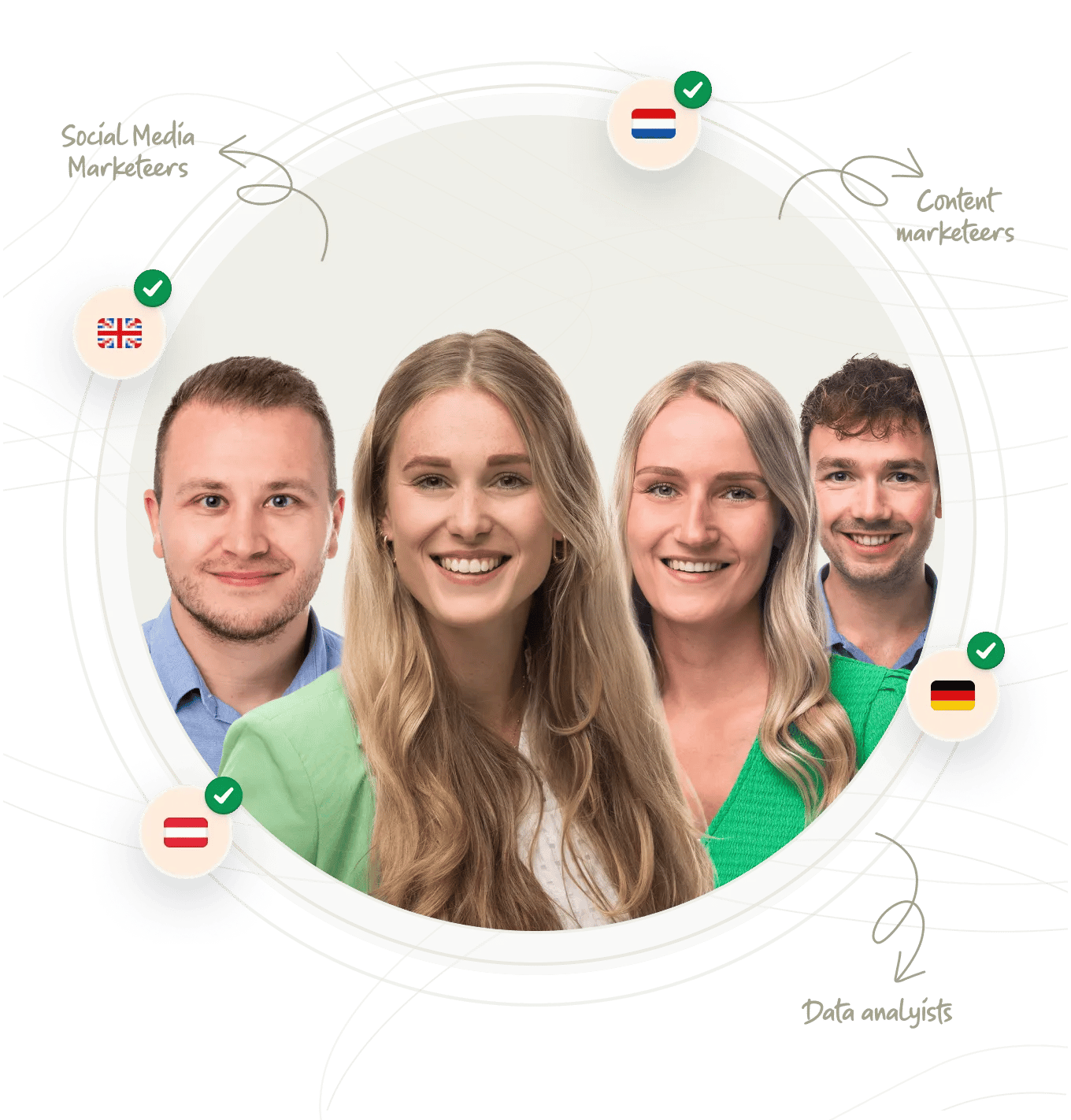 Frequently asked questions
Can I purchase Booking Boosters only when using the BEX PMS?
Yes, it is only possible to purchase Booking Boosters when you also use Booking Experts and our BEX CMS. We want to guarantee success and this is only possible with a well functioning and conversion oriented website. Moreover, this is also nice for you, so you have one point of contact for your reservation system, website and marketing agency.
What marketing tools are you using?
Through the unique combination of Booking Experts' all-in-one reservation system, a website with a direct link and online marketing, together we ensure online success. Each tool reinforces each other and is important in this. Among others, we use:
Meta advertising
Google (Hotel) Ads
Ahrefs
Trade Tracker
Bing Ads
Do you also do marketing for the German market?
German guests are a very interesting target group for Dutch recreation entrepreneurs. We therefore employ native German-speaking marketers who can handle your marketing for the German market.
Do I need a BEX CMS website if I want to purchase Booking Boosters?
Yes, we would like to be able to ensure optimal results and believe that this is only possible with the best tools, including a conversion-oriented CMS integrated with the BEX PMS. So it is only possible to purchase Booking Boosters when you also use the BEX PMS and BEX CMS.
What does it cost to purchase Booking Boosters?
The price of Booking Boosters depends on several factors, therefore we cannot give an unequivocal answer here. Please contact us and we will look at the possibilities and costs.
What types of businesses does Booking Boosters work for?
Booking Boosters provides brick-and-mortar marketing for companies in the leisure industry. Our client portfolio includes:
Holiday Parks
Campings
Hotels
Resorts
Rental agencies
Developers
Etcetera.
Be part of our journey
Let's increase hospitality together
Discover how Booking Experts is the best way to manage your hospitality business.