Always think carefully about what you want to reach, and most importantly, who you want to reach. The advantage of social media advertising is that you can reach the right people in a very targeted way. In addition, it is a very proactive way of marketing. This makes you visible earlier in the guest's customer journey. You also create cross-media contact moments by using social media campaigns; and therefore you are more visible! How Booking Boosters sets up these campaigns for recreation companies? Below are 5 examples.
1. Winter Wellness Weeks - Hof van Salland
The Winter Wellness Weeks: ultimate relaxation in a luxury villa with private wellness facilities. That sounds wonderful doesn't it? With this campaign we want to appeal to the luxury segment that is interested in luxury products, wellness facilities or, for example, women's magazines. We are also targeting specific website visitors who, for example, have visited a page about winter, wellness or have searched in the search & book for a date during the Winter Wellness Weeks. We continuously measure how well these target groups engage with the campaign and optimize where necessary. For this purpose we look, for example, at the reach, the cost per 1000 views (CPM), number of conversions and costs per click (CPC). As shown in the carousel example below, we have named different influencer experiences. This is also called "social proof," 1 of Cialdini's 7 principles of persuasion. After all, social proof increases guest trust and encourages them to do the same. We also use different formats. For example, we vary between an image, carousel and/or collection.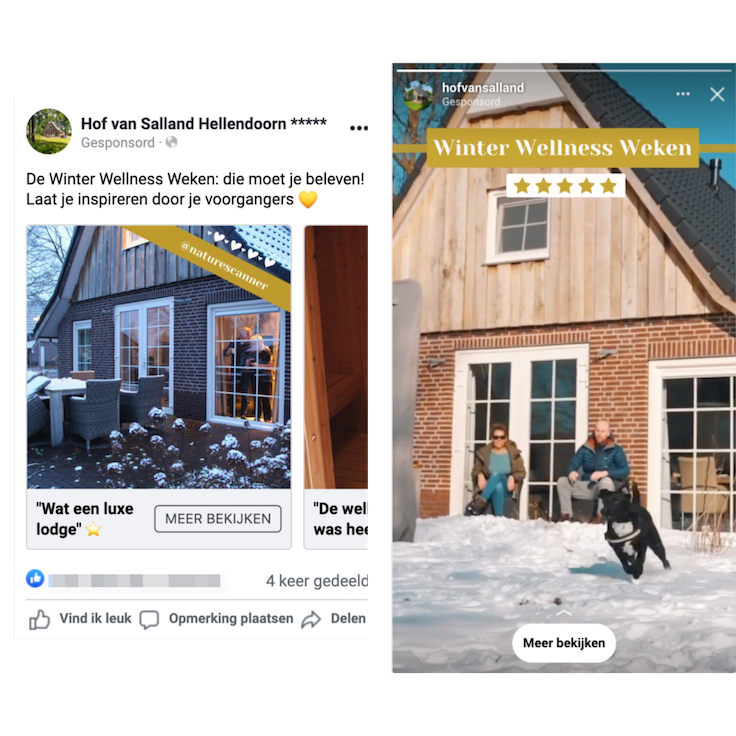 2. Kleine Draken Weken - Vakantiepark Mölke
These weeks are completely set up for a vacation with your toddler. This is why the design, tone-of-voice and visual material is adapted to this. For this campaign we mostly focused on parents with young children and with Facebook known interests in, for example, Zwitsal or toys. To get the best results from these different target groups, we often use CBO (Campaign Budget Optimization). This means that Facebook, based on its own machine learning, distributes the budget as optimally as possible to achieve the best results. In addition to using budget as optimally as possible, the target audience must also be addressed through appropriate text. As shown in the example below, social advertising is the ideal way to respond to special periods.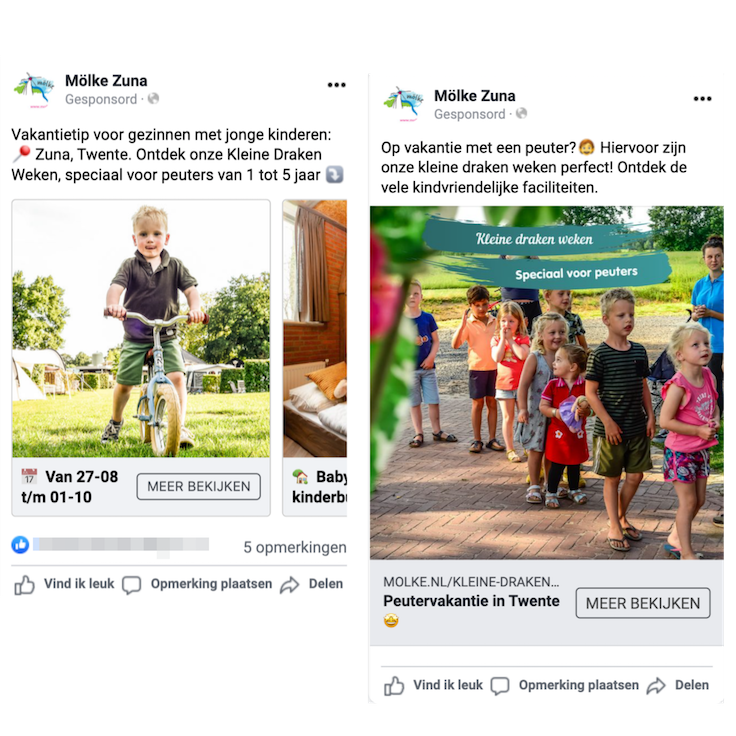 3. TopParken TV commercial; cross-media visibility
During December and January, TopParken was featured on TV with a commercial aimed at families with the message: 'Holiday memories are made together'. Important target groups are therefore families. From grandparents, parents, children and grandchildren; the whole family and therefore a broad target group. Using video material immediately attracts attention and by showing the video in different places, such as in the Facebook and Instagram overview or Insta Reels, people will remember the video. In addition, video is the perfect tool to convey an experience and apply storytelling. By being visible cross-media, both on TV and social media, you increase brand awareness, increase interaction with your target audience and arouse curiosity. The power of a message lies in repetition and consistency!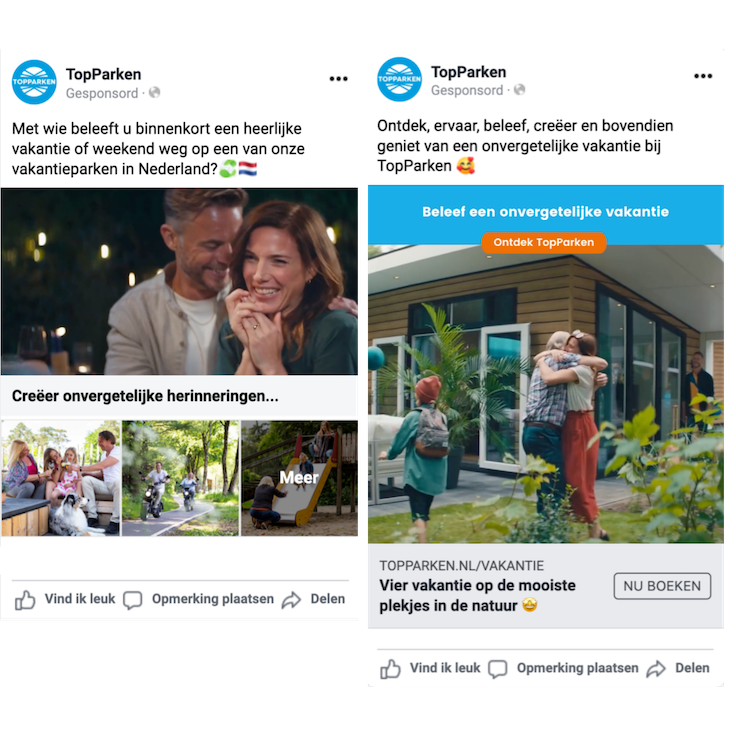 4. Bungalow 10-day - Beerze Bulten
As the name suggests, Beerze Bulten treats its guests to 10 days of discounts on a bungalow. Since this park is a true family campground we are targeting parents with young children. To increase visibility we make sure, as with the above campaigns, that the campaign is visible on multiple sites. So not only in the Facebook news feed, but also in the Facebook Marketplace, on Instagram and in the Stories. Very important, because Instagram is growing tremendously fast compared to Facebook. So there you reach numerous potential guests! Social media is ideal for short-term campaigns like this one. We can communicate new actions in a short period of time and set up a matching campaign with a duration of 10 days. The set-up of this campaign therefore primarily played on Cialdini's popular persuasion principle "scarcity. Then we get maximum results from social ads in the short term!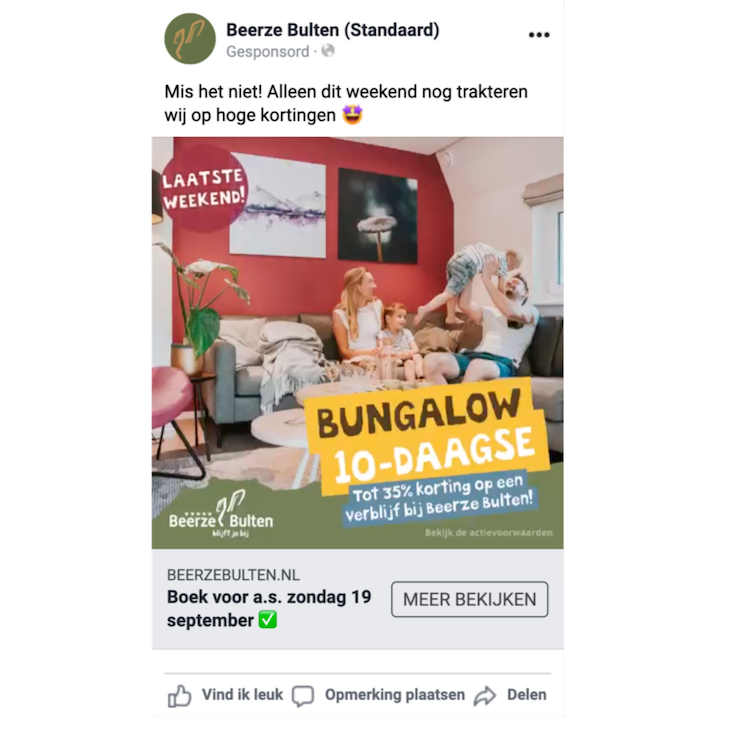 5. Insta Reels - Oesterdam Resort
Last but not least: the fairly new placement 'Insta Reels'. We set up an Insta Reels campaign for Oesterdam Resort, among others, advertising only through this specific placement. Insta Reels is shown as a short video of up to 15 seconds on Instagram. It's basically a kind of TikTok, but on Instagram. Since it is a short video, it is important to make sure you have catchy and compelling imagery. That way you can really convey an experience. This is especially valuable for people in the orientation phase and is a very effective addition to the customer journey. The results of this campaign were also very promising! With an Insta Reels campaign you reach a lot of people at low cost and you are able to communicate your story to your desired target group.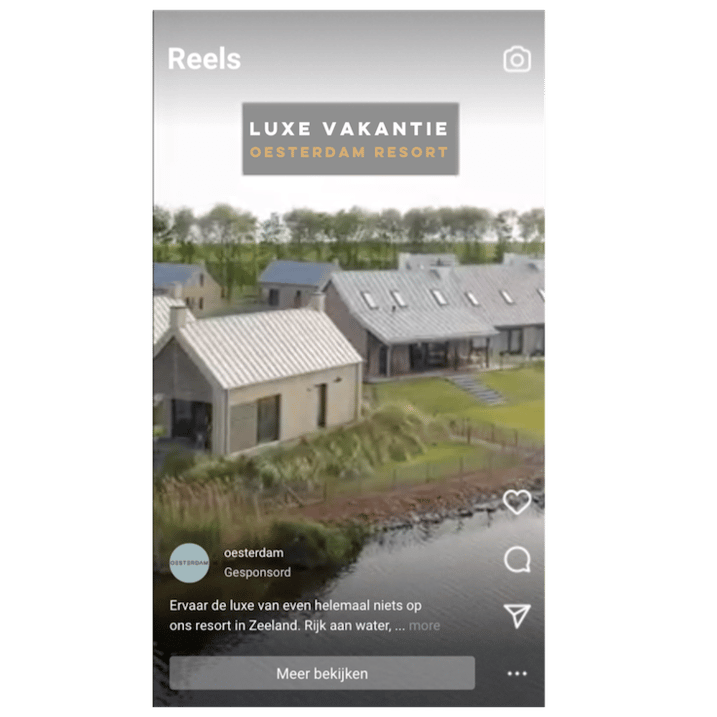 Content is king
So be clear in who and especially what you want to reach. With social media advertising you can respond very proactively to the needs of the guest and you can continue to experiment with what works for you. The beauty of social media advertising is that it is constantly evolving, so there are always new ways to reach your target group! Everything depends on top quality segmented images, tailored to the product and the target group. Think of current images, seasonal content and segmented imagery. Tip: if you want to create a video, make sure you have the 'original' format as well as a standing video suitable for Insta Reels and stories. This way the video can be used in different places. In short, content is king in social media advertising!

Do you have questions or want to know more about social media advertising? Feel free to contact us!