Sustainability is and will continue to be a relevant theme nowadays, including in the recreation industry. In the recreation industry, there are several ways for your vacation park, campground, concern or hotel to bet on sustainability. Of course, visibility also plays a role in this. Ecologically aware guests must be able to find your sustainable initiatives. We would like to share some tips with you!
1. Sustainable accommodations
Original lodging is still hip. Combine this with sustainable accommodation and your sustainability-conscious guest kills two birds with one stone. Consider, for example, the cool Wikkelhouses found at Vakantiepark De Klepperstee and Vakantiepark Beerze Bulten. These sustainably developed houses are made of recycled cardboard!

Are you planning a new construction project? Then include sustainability in these plans. Think solar panels or solar collectors, gas-free, a heat pump, smart thermostats, water-saving faucets and showerheads and we could go on and on. Many of these solutions are provided by I.C.Y., for more tips around energy management read our blog about it. The vacation homes of Brinckerduyn and Park Berkenrhode, among others, feature many of the above sustainable solutions. The use of sustainable materials is also an interesting application in new construction. EuroParcs IJsselmeer, Oesterdam Resort, Hof van Salland and Wilsumer Berge, among others, preceded you!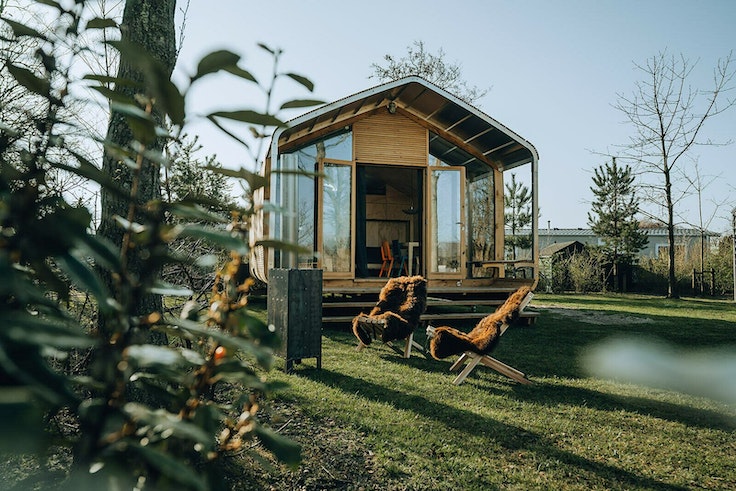 2. Green Key
Green Key is the most well-known and largest sustainability label for the recreation industry in the Netherlands and also internationally. With a Green Key certification you show that your recreation company considers sustainability and the environment very important but of course without your guests having to compromise on comfort and quality.

To receive a bronze, silver or gold Green Key certification, your recreation company must meet various requirements in the areas of management, communication, social involvement, water, cleaning, waste, energy, building and greenery, mobility, food and drink, sustainable purchasing and textiles. Among our users, Vakantiepark Ackersate, Vakantiepark Beerze Bulten and several parks of TopParken have received a Green Key certificate. Moreover, several users are also in the race for this beautiful certification.
3. Sustainable facilities
In addition to sustainable accommodations and Green Key certification, you can also reduce your ecological footprint through sustainable facilities, making you attractive to sustainability-conscious guests. Think about charging stations for electric cars, a natural swimming pond instead of a chlorinated outdoor pool or a water-saving dishwashing service (Camping 't Geuldal has for example environmentally friendly dishwashers). Visibly installing solar panels is, of course, another option. How about above your parking lots like Holiday Park Ackersate has done?

Of course you can also make your existing facilities more sustainable. For example, you can sustainably heat your swimming pools with a heat pump or pellet heater. Think about local suppliers for your catering purchases, your guests will like them and less transport is needed. Or green your roofs with vegetation roofs, this contributes to rainwater retention and biodiversity in your park. Another possibility is to disconnect rainwater collection from the sewer and use it to flush your toilets in the toilet building. The possibilities for making your recreation company more sustainable are endless!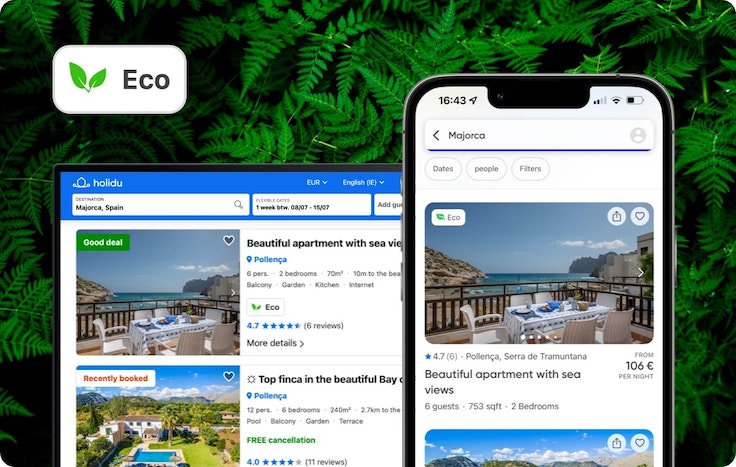 4. Communication of your sustainable initiatives
Now you have a super sustainable park, of course you want to share this with your guests. The ecologically aware guest in particular wants to know that he or she can spend a sustainable vacation at your recreation park. Communication and visibility are therefore important. You can create a page on your website in which you summarize your sustainable initiatives. Put this in the footer, for example, so visitors can find this information. Or create a sustainable filter option in your search & book. Let guests filter on the different sustainable options of your accommodations or the choice between a sustainably and non-sustainably built vacation rental.

You can also push this visibility beyond your own website, of course. Make smart use of tour operators that offer you an opportunity to show your sustainability directly to potential guests. For example, Holidu has an Eco Badge. This allows searching vacationers to easily and quickly recognize sustainable accommodations. And this recognition also leads to more bookings. According to Holidu, the Eco Badge gives over 11% more chance of being clicked on and after clicking over 28% more chance of being booked. There are eight criteria you must meet for this badge. Are you already working with Holidu? Then see if you qualify for this Eco Badge. And don't know Holidu yet but are you working sustainably? Consider adding Holidu as an OTA.
Holidu can be linked to Booking Experts through Qenner. Our Success Team will gladly help you on your way if you have been inspired! Read more about connected channels through Qenner in this support article. Holidu currently has a special offer for Booking Experts users where you don't pay double commission to both Qenner and Holidu but only to one party. The commission is 12% over the rental price. Interested? Sign up directly with Holidu here.